Climatic Test Chamber Hinges
IHINGES designs and produces a range of hinges for the environmental test equipment sector. They are mainly used in environmental test chambers, climatic test chambers, industrial ovens, constant temperature and humidity test chambers and so on.
Specialized hinges
Accept customized
Sufficient stock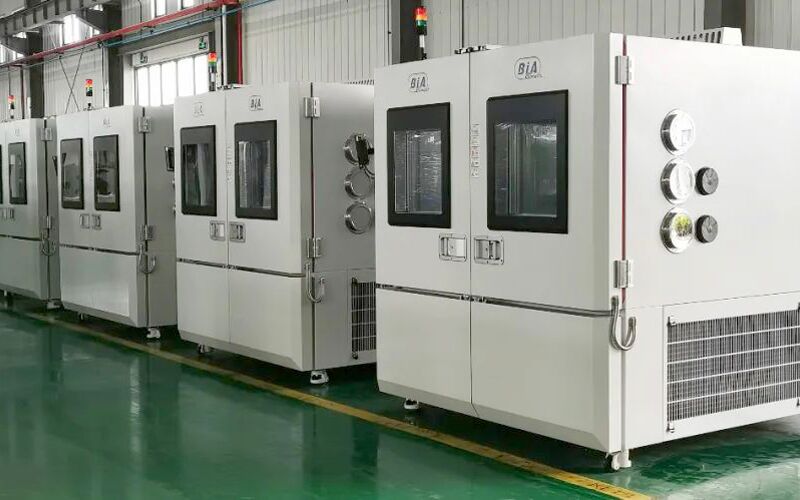 We have designed and produced a range of hinges for the environmental test equipment sector. You can first select the specifications among our existing products.
We also accept customization. The structure, function, dimensions and load-bearing capacity of the hinges are designed in conjunction with your equipment. The final product is mass-produced and delivered.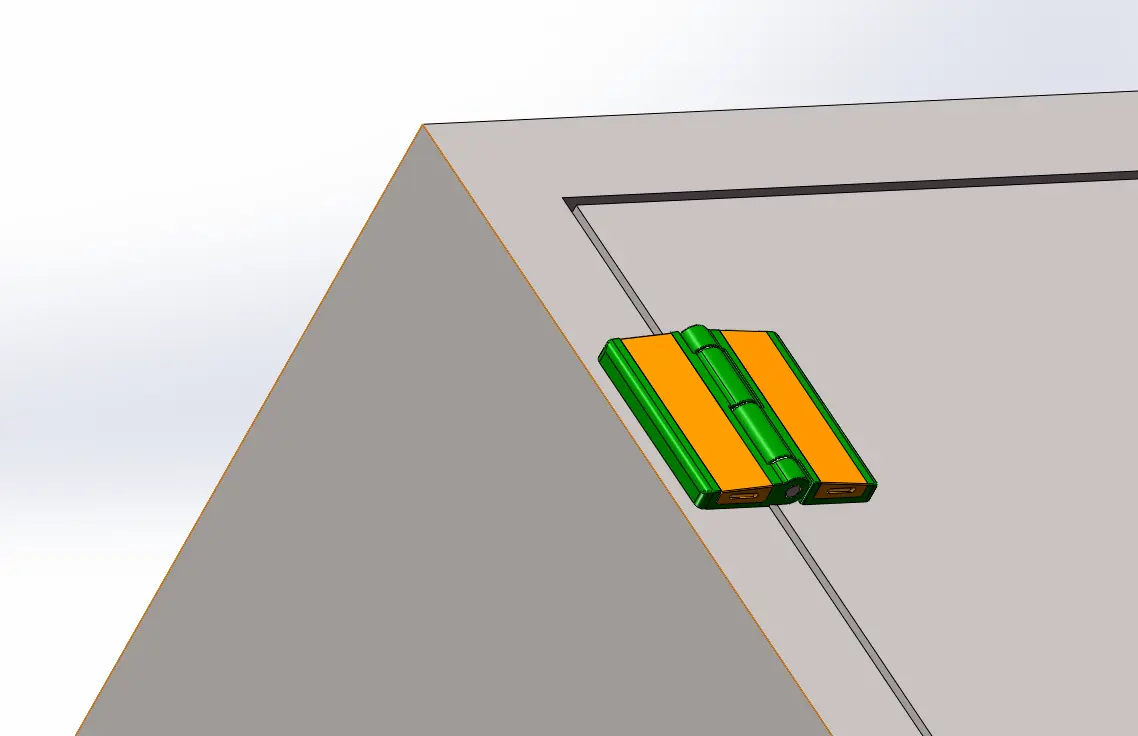 Climatic test chamber hinges for flat door installation
Most of the test chamber equipment doors are flat. So this is a common form of installation. Most of our off-the-shelf products are also designed based on this mounting situation.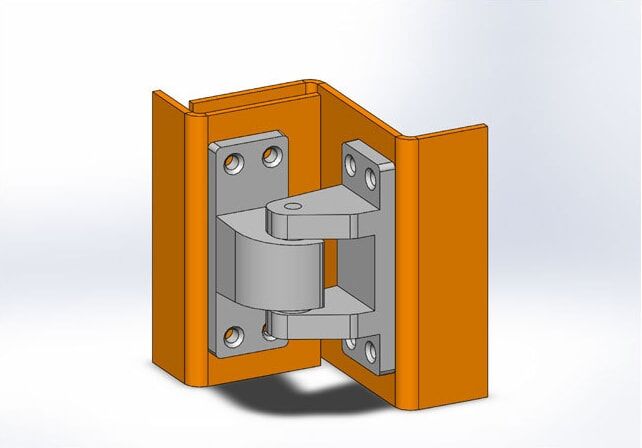 Climatic test chamber hinges for Convex door installation
Some climate testing test equipment doors require the installation of fittings for special functions. For example, observation windows, insulation and LCD displays. This is when the door is thicker. This requires the door to be installed protruding from the door panel.
High load-bearing capacity:
Produced in zinc alloy material or stainless steel. It has good load-bearing capacity. When choosing, according to the actual weight of the door to determine the specifications of the hinge. Or contact us for an estimate.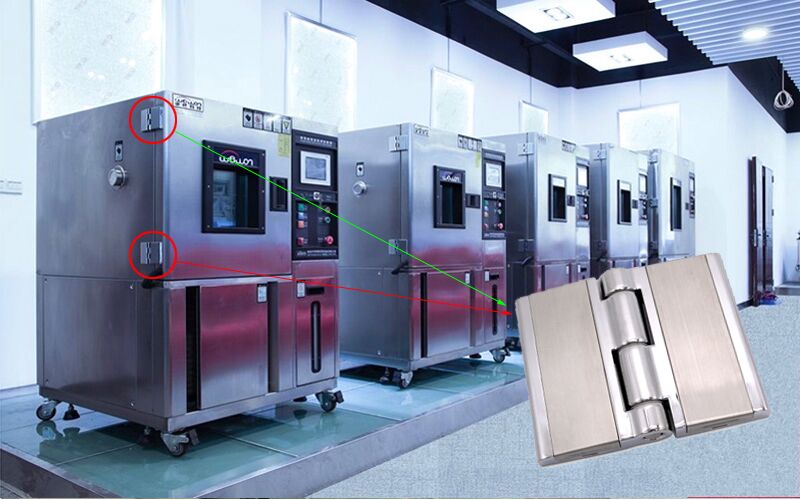 More Than Just Climate Test Chamber Hinges
In order to meet the needs of our customers for climate testing equipment. We also produce complementary products such as handles, feet, pedestals, and alignment hoses for use with doors.
The aim is to realize the one-stop shopping needs of customers for climate test equipment accessories. This greatly reduces the purchasing burden of customers.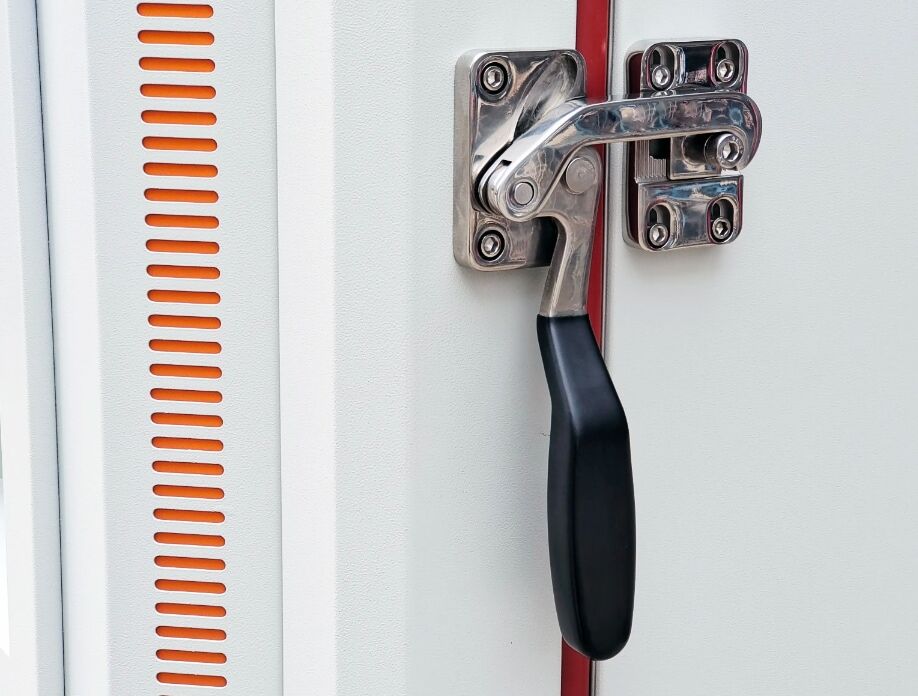 Real Reviews from Real Customers
Here are some of the comments our customers made about our products.
We have installed these hinges on 100 climate test chambers and the results have been remarkable. Not only are they more durable, but they also provide a perfect seal to ensure consistent test conditions.
As a Quality Control Engineer, I am thoroughly impressed by the durability and craftsmanship of these hinges. They've proven to be reliable under constant use, which is essential for our continuous testing cycles.
I've been searching for a hinge solution for our climatic test chambers that can withstand high levels of stress and variable conditions. These hinges have exceeded my expectations; the quality and performance are outstanding.
We know you might have more questions, so here's a list of the questions we get asked the most about Climatic Test Chamber Hinges.
What is a Climate Test Chamber Hinge?
A Climate Test Chamber Hinge is a specialized type of hinge used in climate test chambers. These chambers are scientific instruments designed to simulate various environmental conditions such as temperature, humidity, and pressure. It may also be called an environmental test chamber hinge.
How Can I Get a Quote for Climate Test Chamber Hinges?
Contact Customer Service today for a reasonable and accurate quote on climate test chamber hinges. Including, but not limited to, specific details such as construction, dimensions, materials, and finishes.
What is Your MOQ for the Order?
There are no MOQ requirements for in-stock products. For customized products, we require a minimum order of 500 pieces. For more specific details, you can contact us now.
What Is The Turnaround Time On My Order?
It takes 10 to 20 working days to produce the climatic test chamber hinges. On the other hand, shipping time takes 7 to 15 business days. For customized or bulk orders, please contact us online and we will indicate the actual turnaround time based on the specific details of your order.
What is the Difference Between a Climate Test Chamber Hinge and a Regular Hinge?
The primary difference between a Climate Test Chamber Hinge and a regular hinge lies in the material and engineering; the former is designed to withstand extreme environmental conditions such as high and low temperatures and varying humidity levels. While regular hinges are often used for doors, cabinets, and other general applications, Climate Test Chamber Hinges are specifically engineered to maintain airtight seals, ensuring that the internal testing environment remains stable.
Can I Get a Sample Before I Order?
Of course! You can always request samples before ordering large quantities. Sample time usually takes 5-7 days after the mold is made, depending on the complexity of the product.
Request a sample now!
How To Buy Climate Test Chamber Hinges - A Complete Buyer's Guide
When dealing with the complexities of climate test chambers, you can't afford to compromise on any component—be it the controller, sensors, or something as ostensibly simple as the hinges. A seemingly minor hiccup can throw off your carefully controlled testing environment, leading to inaccuracies that could cost you significantly in time, money, and credibility.
If you're navigating the intricate process of purchasing climate test chamber hinges, this comprehensive guide is your roadmap. We'll delve into the what, why, and how of buying these essential components, ensuring you make an informed decision.
Stay with us to discover the steps to choose the right hinges that will support your chamber's needs, how to make customization requests, and why it might be beneficial to choose specialized manufacturers like IHINGES.
What Is a Climate Test Chamber Hinge?
In a high-tech piece of equipment like a climate test chamber, every component plays a vital role in its efficiency and accuracy. The hinges are no exception. These are not your everyday door hinges but are specialized units designed to withstand extreme environmental conditions.
A climate test chamber hinge not only holds the door in place but also ensures an airtight seal. This prevents any leakage of conditioned air, thereby maintaining the internal environmental conditions critical for valid and reliable test results. Therefore, opting for a specialized hinge over a general-purpose one is not merely an aesthetic choice but a functional necessity.
How To Submit Your Customization Request?
You may wonder how to go about requesting custom-built hinges. The process starts with a detailed understanding of your needs and climate chamber specifications.
First, measure the dimensions carefully, noting down parameters like height, width, and the distance between screw holes. Next, consider the material suitability—should it be stainless steel, anodized aluminum, or a coated metal alloy? Once you have all these details, reach out to a specialized manufacturer, providing them with a comprehensive list of specifications. The more detailed you are, the better the end product will meet your requirements.
Or you can contact us now for a timely proposal and quote.
Why Use Specialized Climatic Test Chamber Hinges?
Utilizing specialized hinges over general-purpose ones for your climate test chamber isn't just advisable; it's almost a requirement for precise and reliable testing.
Unlike regular hinges, climate test chamber hinges are specifically designed to work under extreme conditions, including variations in temperature and humidity. The right hinges can withstand corrosive environments and are built to last, reducing the frequency of replacements. Plus, specialized hinges offer better sealing capabilities, thereby ensuring that the controlled environment within the chamber remains stable.
How To Choose a Climatic Test Chamber Hinge?
The marketplace is replete with options, making the selection process daunting. How do you choose a hinge that's the best fit for your test chamber?
Primarily focus on material type, since this dictates the hinge's longevity and corrosion resistance. Stainless steel is a popular choice, but other alloys may offer advantages based on your specific needs. Next, evaluate the size and weight-bearing capacity, as a mismatch can lead to operational difficulties and potentially jeopardize the testing process. Last but not least, consider if you need a standard hinge or something custom-designed. Special situations require special solutions.
How Do I Install a Climatic Test Chamber Hinge?
Assuming you've made your choice and received your hinges, the next hurdle is installation. A poorly installed hinge compromises the seal and integrity of the climate chamber.
Prepare by gathering all necessary tools, including screws, a drill, a screwdriver, and a level. Mark the placement for the hinge precisely and use a level to ensure it's straight. Drill pilot holes, then attach the hinge using screws. Test the door multiple times to ensure it swings freely and seals tightly. If your chamber operates under specific conditions, you may also need to test the installation under those conditions to confirm its suitability.
Why Buy Climatic Test Chamber Hinges From IHINGES?
Quality and specialization are paramount when it comes to crucial components like climate test chamber hinges. That's where companies like IHINGES come into play.
We have designed and produced a range of specialized hinges for these devices such as environmental test chambers, climate test chambers, and industrial ovens. You can purchase off-the-shelf products.
Or if you need customized climatic test chamber hinges. Feel free to contact us. Customized climate test chamber hinges are what we specialize in.
What Are the Different Sizes of Climate Test Chamber Hinges?
The size of the hinge you need largely depends on the size and type of your climate test chamber. The market offers a variety—from compact, lightweight hinges for tabletop chambers to robust, heavy-duty hinges for walk-in chambers.
Before making a purchase, consult with IHINGES to ensure you're choosing the appropriate size. The hinge should match the door's dimensions and weight, providing adequate support without causing undue stress on the door or frame.
Conclusion
Choosing the right hinge for your climate test chamber is a complex but crucial task. The ideal hinge enhances the efficiency and reliability of your climate tests. By giving attention to each detail, from size and material to installation and customization options, you can ensure a seamless operation, thereby enhancing the validity of your test results.
Send us a message if you have any questions or request a quote.