Description
Folding door hinges are hardware components specifically designed for folding doors. These hinges allow smooth and easy opening and closing of the door panels, providing convenience and functionality. Made of stainless steel, they offer excellent corrosion resistance for long-lasting durability. This hinge is similar to the asymmetrical butt hinges, which are also produced using a stamping process. You can click on the link for both to find out more.
Folding door hinges are specialized hardware components designed to facilitate the smooth operation of folding doors. These hinges are typically made of materials like stainless steel, which provide excellent corrosion resistance. They incorporate a lubricating axle, ensuring that the door can be opened and closed with ease and minimal friction. These hinges are available in both left and right types to accommodate the specific installation requirements of the door. With their functional design, these hinges allow for convenient access, save space, and enhance the overall functionality and aesthetics of folding door systems.
Features
Specifically designed for folding doors.
Smooth opening and closing motion.
Incorporates a lubricating axel for seamless operation.
Made of stainless steel for excellent corrosion resistance.
Available in left and right types for proper door installation.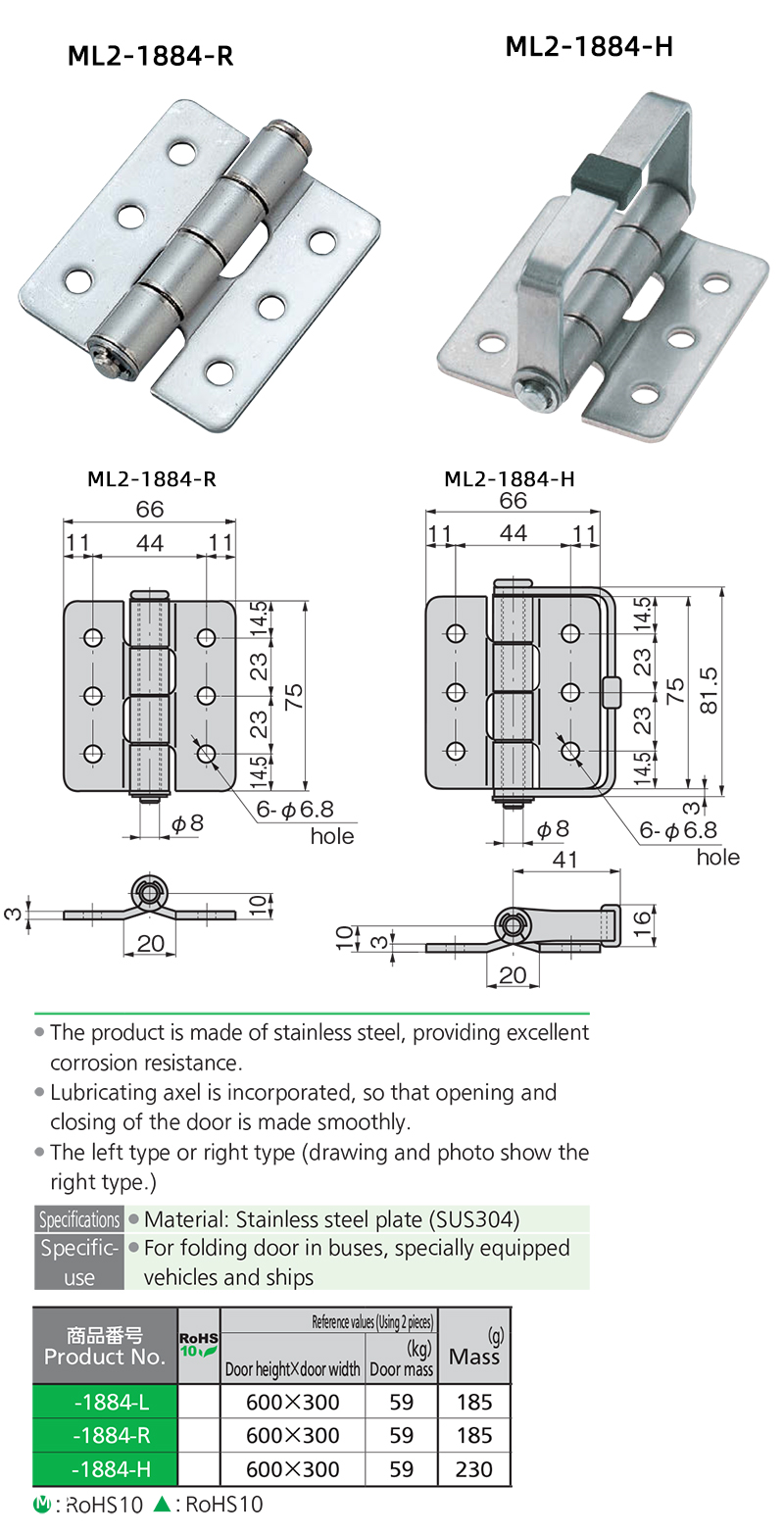 FAQs
What are folding door hinges?
The hinges are hardware components designed specifically for folding doors, enabling smooth opening and closing.
How do folding door hinges work?
They incorporate a lubricating axle, typically made of high-quality materials such as nylon or brass, which is strategically placed within the hinge mechanism. This lubrication mechanism plays a vital role in ensuring that the door operates smoothly and effortlessly. As the door is opened or closed, the lubricating axle reduces friction between the moving parts of the hinge, allowing for seamless motion without any sticking or resistance. This not only enhances the user experience but also minimizes wear and tear on the hinges, promoting their longevity and reliability. With the lubricating axle in place, folding doors can be operated with minimal effort, providing convenience and ease of use in both residential and commercial settings.
What are folding door hinges made of?
They are typically crafted from high-quality stainless steel, a material known for its exceptional corrosion resistance properties. This corrosion resistance makes stainless steel the hinges highly durable, allowing them to withstand various environmental conditions without deteriorating or rusting. The use of stainless steel ensures that the hinges retain their structural integrity over time, even when exposed to moisture, humidity, or harsh outdoor elements. As a result, folding doors equipped with stainless steel hinges can maintain their smooth functionality and aesthetic appeal for an extended period, making them a reliable and long-lasting solution for both residential and commercial applications.
Can folding door hinges be used for both left-opening and right-opening doors?
Yes, they are available in both left and right types to accommodate specific door installation requirements.
What are the benefits of using folding door hinges?
They provide convenient and functional operation for folding doors, allowing for easy access and space-saving design.