The hinge showcased in the image is an industrial-grade hinge, aptly named the "Exposed Hinge" with model number ML2-002. Designed with precision and durability in mind, this hinge is primarily employed in industrial ovens, test chambers, and constant temperature and humidity test chambers, serving both as a connecting and weight-bearing component.
Manufactured from zinc alloy, this hinge boasts a bright chrome surface treatment, giving it a sleek and modern appearance. Each hinge weighs in at 570g, a testament to its robust build and quality.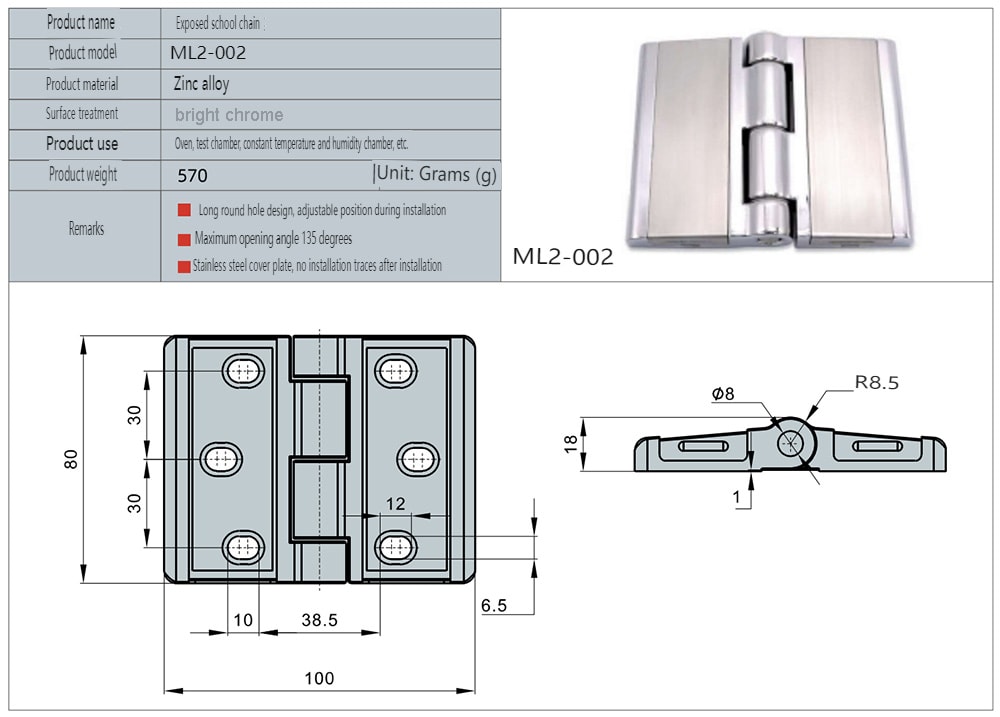 Here are some standout features of the ML2-002 hinge:
Adjustable Design: The long oval hole design ensures flexibility during installation, allowing for position adjustments to fit various requirements.
Wide Opening: With a maximum opening angle of 135 degrees, this hinge provides ample access and maneuverability.
Sleek Finish: The inclusion of a stainless steel cover plate ensures that there are no visible installation marks post-installation, offering a clean and polished look.
Uniform Design: Each leaf of the hinge comes with three elongated oval holes, providing consistent aesthetics and functionality.
Compact Dimensions: The hinge sports a compact form factor with external dimensions of 100 x 80mm.
Durable Axis Core: The hinge's axis core has a diameter of 8mm and is made of high-quality 304 stainless steel, known for its resistance to corrosion.
For manufacturers in the sheet metal enclosure industry, the ML2-002 hinge offers a blend of functionality, aesthetics, and durability. If you're in the business of producing enclosure equipment doors, we highly recommend considering this hinge for your products. Its combination of features and build quality promises reliable performance and a polished look for any industrial application.
You might also be interested: