In the world of industrial-grade equipment, every component is pivotal to ensure the flawless operation and longevity of the machinery. Among these crucial components, the hinge plays an understated but absolutely vital role, particularly in high-grade industrial ovens, automation equipment, and experimental cabinet setups. Today, we are delighted to introduce the ML2-003-6, a hinge that sets a new standard for heavy-duty application.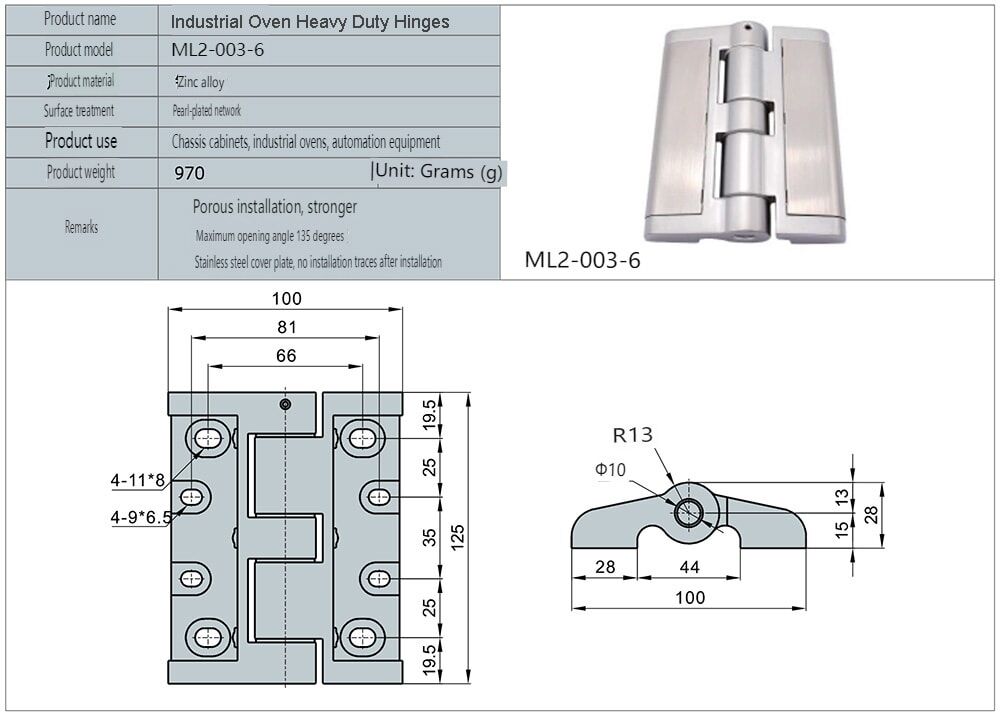 Material & Craftsmanship
Crafted meticulously from high-quality zinc alloy, the ML2-003-6 promises durability and resistance against everyday wear and tear. The pearl chrome plating not only provides an additional layer of protection against corrosion but also gifts the hinge a sleek, shimmering finish, seamlessly integrating aesthetics with functionality.
Application Versatility
While its primary use lies in industrial ovens, its robust design and superior strength make it apt for a range of applications including automation equipment and experimental cabinet devices.
Precision & Performance
Weighing in at a substantial 970g, this hinge boasts a porous installation feature, ensuring an even sturdier and reliable fixture. Its design allows for a maximum opening angle of 135 degrees, granting easy access and flexibility in various setups.
Aesthetic Integration
Understanding the importance of not just function but also form, once installed, the hinge is concealed beautifully with a stainless steel cover plate. This ensures a neat appearance, free from any unsightly installation traces, making your equipment look both professional and polished.
Core Strength
At the heart of the ML2-003-6 lies its axis, constructed from stainless steel with a diameter of 10mm. This axis is the linchpin of the hinge's operation, ensuring smooth movement and robust performance every time.
Dimensions
With an external dimension of 100*125mm, the hinge is compact yet powerful, making it an ideal fit for a wide range of industrial applications.
In conclusion, the ML2-003-6 hinge is not just a component; it is a testament to meticulous design, unmatched strength, and aesthetic brilliance. Whether you're upgrading existing equipment or embarking on a new project, this hinge is the reliable partner you've been searching for.
You might also be interested: