Description
Aluminium hinges for communication equipment are designed to provide reliable and efficient support for communication and measuring devices. These hinges are specifically crafted using lightweight aluminum alloy, ensuring a balance between strength and weight for optimal performance. The stainless steel shaft further enhances durability and longevity, making them ideal for long-term use in demanding environments. These hinges differ from folding door hinges in terms of material. Aluminium is a little less strong than stainless steel. Consider the load-bearing properties when choosing.
Features
Made from lightweight aluminum alloy for easy installation and handling.
Equipped with a stainless steel shaft for added strength and durability.
Silver coating finish enhances corrosion resistance and aesthetics.
Precision engineering ensures smooth and seamless operation.
Specifications
Material: Aluminum alloy (ADC).
Finish: Silver coating.
Specific Use: Designed for communication or measuring equipment.
Aluminium hinges for communication equipment provide a reliable and sturdy solution for securing and supporting vital communication devices. With their lightweight construction, they are suitable for various communication applications, allowing for easy installation and maneuverability. The silver coating finish not only enhances the overall durability but also adds a sleek and professional look to the equipment. These hinges are designed to meet the specific requirements of communication and measuring equipment, ensuring optimal functionality and long-lasting performance in critical operations.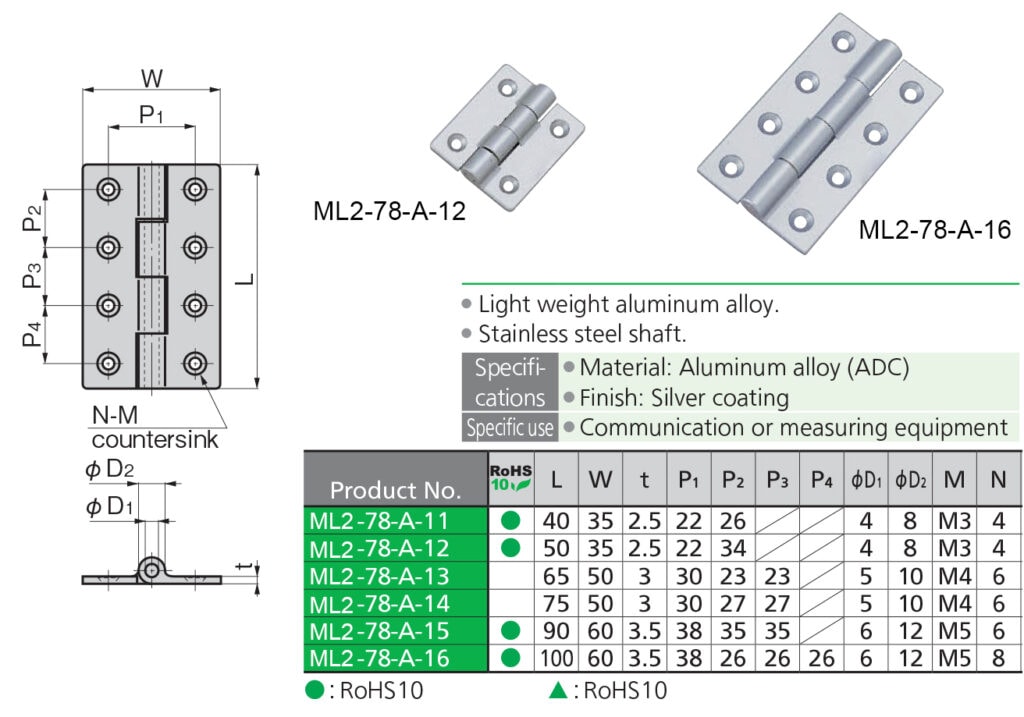 FAQs
1. What makes aluminium hinges suitable for communication equipment?
Aluminium hinges are lightweight and offer optimal strength, making them ideal for communication equipment that requires easy mobility without compromising stability and durability.
2. Are aluminium hinges resistant to corrosion?
Yes, aluminium hinges are coated with a silver coating finish, which not only enhances their appearance but also provides excellent corrosion resistance, ensuring long-term reliability in various environments.
3. Can aluminium hinges withstand heavy loads?
While aluminium hinges are lightweight, they are engineered using a durable aluminium alloy and feature a stainless steel shaft, allowing them to handle moderate to heavy loads commonly encountered in communication equipment.
4. Are aluminium hinges compatible with different types of measuring devices?
Yes, aluminium hinges are versatile and can be used with a wide range of measuring equipment. Their lightweight design and strength make them a suitable choice for securing and supporting various measuring devices.
5. Do aluminium hinges require special maintenance?
Aluminium hinges are relatively low-maintenance. However, occasional cleaning and inspection are recommended to ensure smooth operation and identify any signs of wear or damage. Regular lubrication can also help maintain their performance over time.