Cold storage room hinges are a more specialized class of hinges. I understand the difficulty customers have in finding this type of hinge. And it just so happens that I have years of experience in this field. In particular, I am familiar with where to find suppliers in China.
So, I spent 4 hours of my time compiling a list of the top 10 cold storage hinge manufacturers in China. I hope it will be helpful for you who are looking for cold storage hinge manufacturers.
Location: Dongguan
Company type: manufacturing, wholesale
Year founded: 1991
The number of employees: 50
Main product: cold storage room hinges; industrial hinges; industrial oven hinges.
IHINGES is a professional manufacturer of industrial hinges. Our main products are Butt Hinges, Concealed Hinges, Heavy Duty Hinges, Detachable Hinges, and Cold Storage Room Hinges, which are mainly used in industrial cabinets, Aerospace, Automotive, Food and Packing, and various professional equipment.
Our factory was established in 1991, and we have been specializing in the development, design, and production of industrial hinges since then. More often than not, we help our customers to customize the hinges to their needs, which is the strength of our factory. Initially, the factory mainly produced common butt hinges, but with the increasing demand for personalized customization from customers, we have followed the market trend and introduced hinges that meet customers' needs.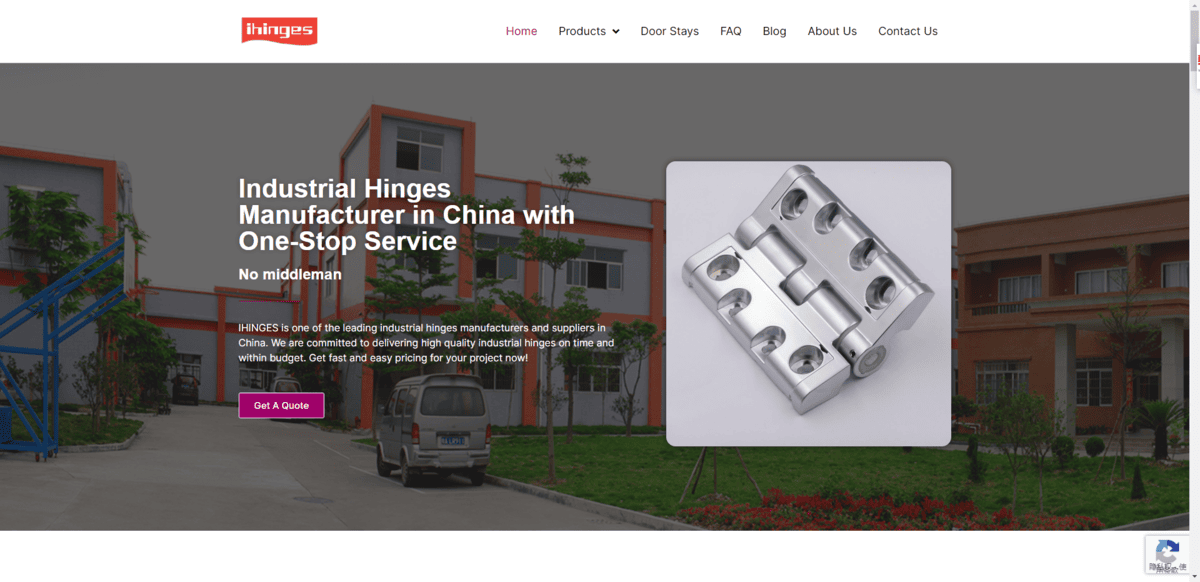 Location: Shengzhou
Company type: manufacturing, wholesale
Year founded: 1992
The number of employees: 200
Main product: cold storage room hinges; Refrigeration Equipment, Refrigeration spare parts.
Founded in 1992, the factory in Zhejiang province boasts over 30 years of manufacturing and export experience. Occupying more than 20,000 sqm, it has over 8 workshops and employs more than 200 people. The company offers not just products, but also value-added technical support and after-sales service. All original purchasers receive a 12-month warranty on equipment and parts, starting from the day of delivery.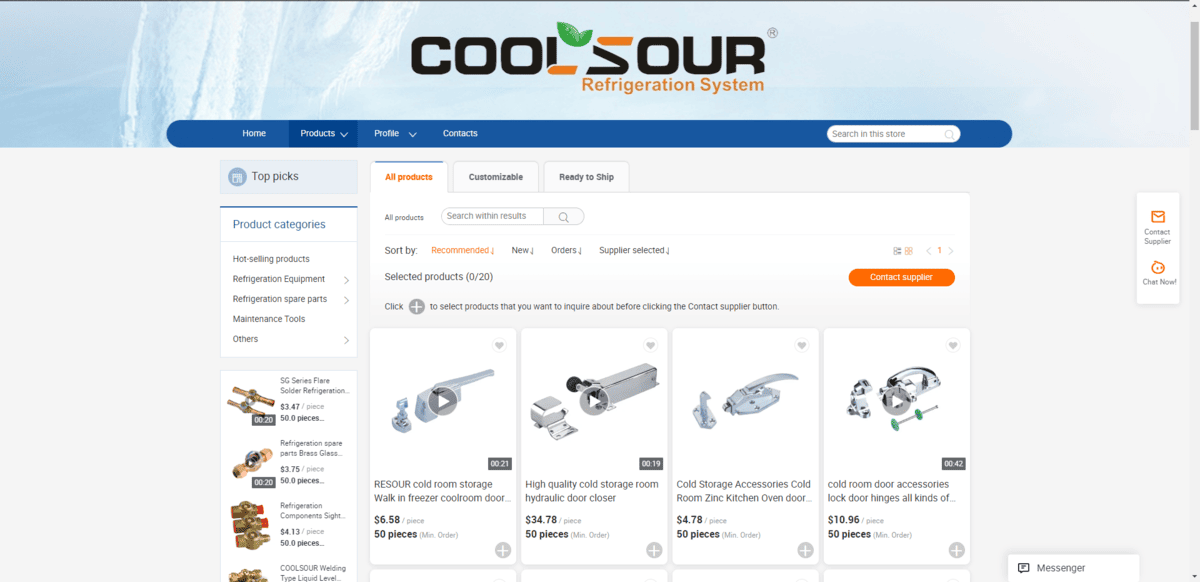 Location: Zhejiang
Company type: manufacturing, wholesale
Year founded: 2006
The number of employees: 30
Main product: Freezer Parts, Refrigerator Parts, Showcase Parts, Door Handle, Universal Wheel
The company operates over 30 automated injection molding machines, ranging in capacity from 50 to 6300 grams, complemented by auxiliary machinery like chillers and mold temperature controllers. It also boasts more than 20 punching presses of varying sizes and specialties in plastic extrusion, welding, and coating. This state-of-the-art equipment places the company at the forefront of the industry. With over three decades of technical expertise, the company's skilled production team can fulfill diverse customer needs.
Location: Yiwu
Company type: manufacturing, wholesale
Year founded: 2014
The number of employees: 51
Main product: stainless steel hinge, handle, industrial lock
As a hardware manufacturer and trading company with over 1,000 products, GongShang excels in delivering quality and dependability to its customers. The company offers a range of standard, special, and custom-made products, backed by industry-leading service and delivery times. GongShang also maintains a robust supplier chain and collaborates with other Chinese companies to ensure top-quality parts at competitive prices and lead times.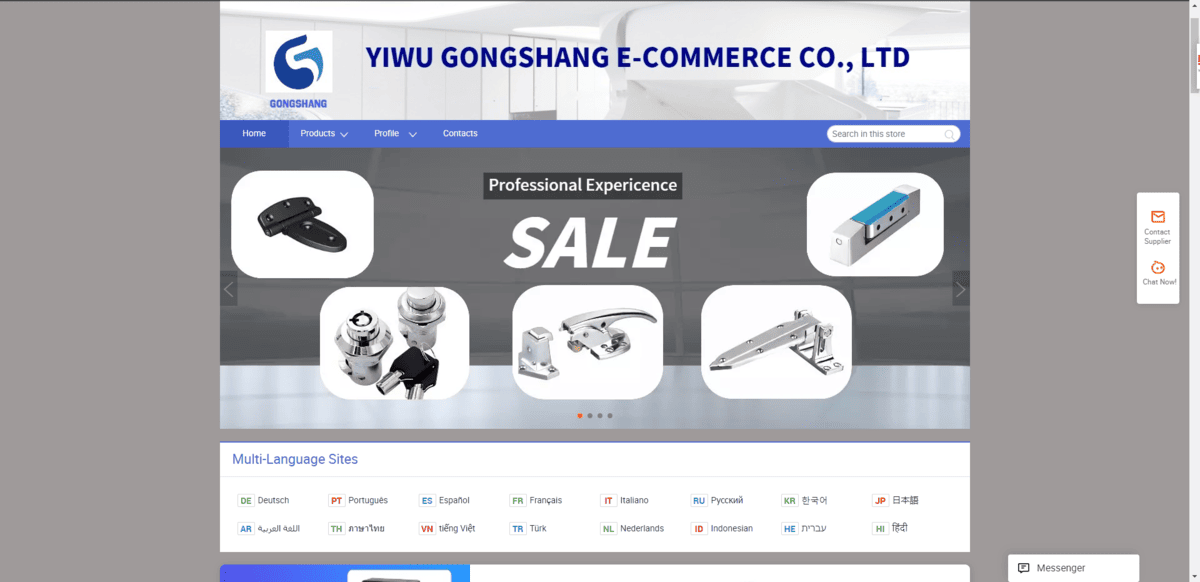 Location: Jiangsu
Company type: manufacturing, wholesale
Year founded: 2022
The number of employees: 11
Main product: Cold Storage, Cold storage panels, Cold storage door accessories
With a 20-year history, Changzhou Minawei Metal Products Factory specializes in manufacturing plastic frames for cold storage doors, medium to heavy-duty rotating shafts for cold storage, hardware fittings for air-conditioning doors, aluminum materials, and sealing strips. The enterprise is committed to delivering high-quality services, prioritizing quality assurance and honesty.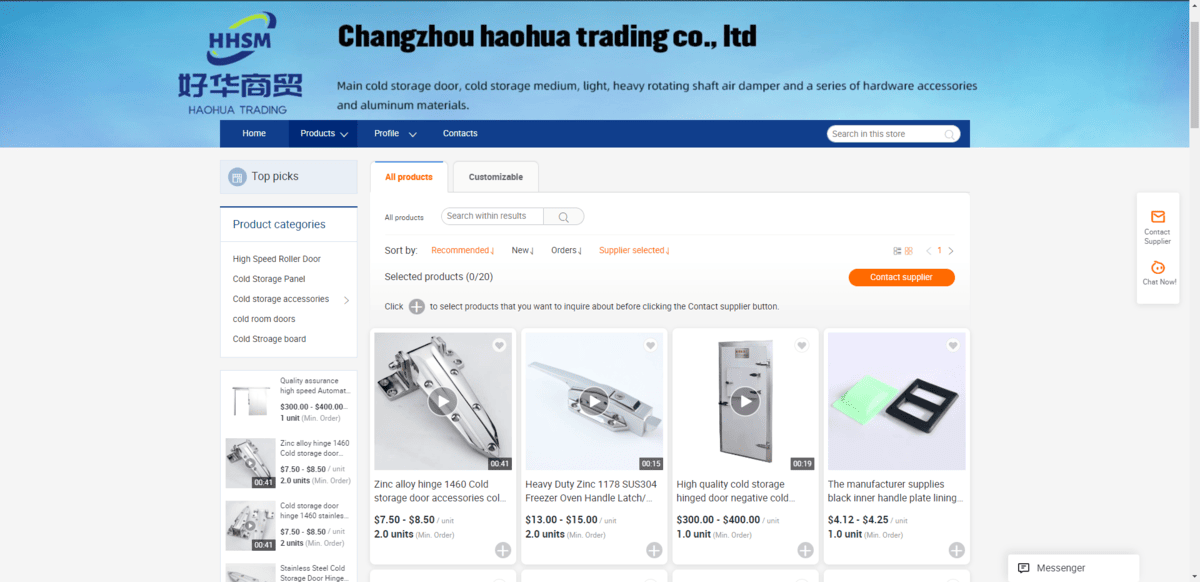 Location: Ningbo
Company type: manufacturing, wholesale
Year founded: 2006
The number of employees: 50
Main product: Air Conditioner, Freezer/Cold Storage hinges
Established in 2003 in Ningbo, Long Term Elec. Co., Ltd. is a leading company in the HVAC and electrical sectors. It also serves as an agent for multiple Chinese factories. Over the years, Long Term has offered a wide range of high-quality, competitively priced products through its reliable manufacturing partners who prioritize quality.
Guided by the principles "Quality Ensures Our Survival" and "Advanced Management Makes Us Develop," the company seeks collaborative partnerships for mutual success. Long Term welcomes inquiries and is equipped to provide top-tier goods at competitive rates. Prompt attention to their offerings is highly appreciated.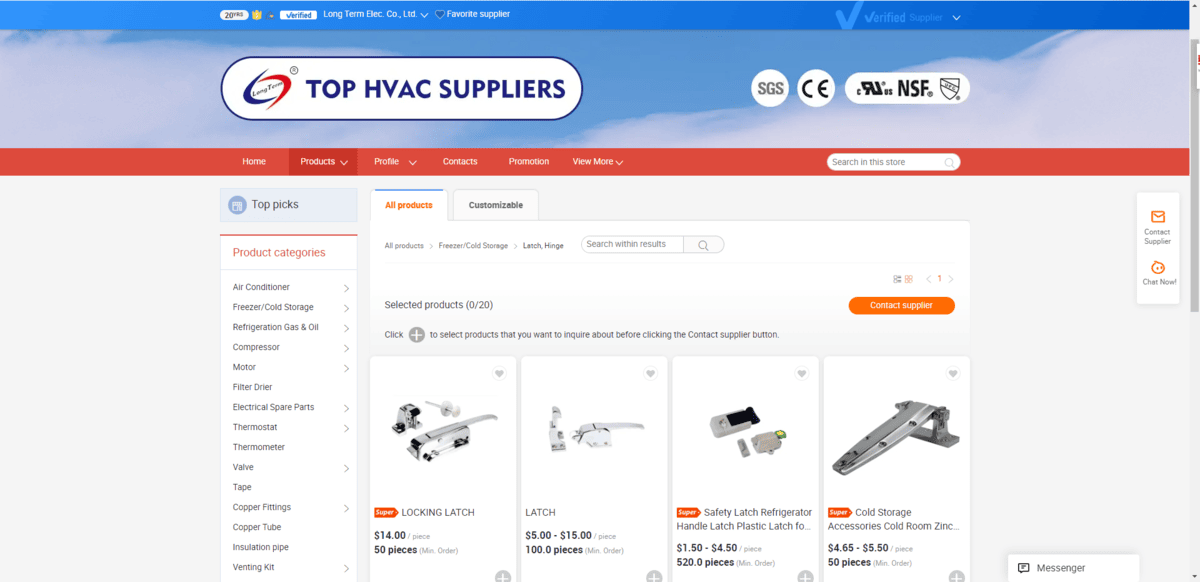 Location: Shanghai
Company type: Manufacturing
Year founded: 2004
The number of employees: 46
Main product: Sandwich Panel and accessories, Cold Room Door, Hinge Door Lock & Hinge
Established in July 2004, Shanghai Minran Refrigerating Engineering Equipment Co., Ltd. is ISO 9001:2000 certified and a member of the China Refrigeration Association. Specializing in a wide range of cold storage projects, the company offers design, sale, installation, and construction services. These projects include various types of cold storage such as fresh, low-temperature, and specialized storage for food, medicine, and other items. With an experienced design team, the company adheres to industry specifications and also provides refrigeration equipment, spare parts, and after-sales maintenance. Focused on honesty and quality, the company has expanded its export business, primarily serving the Middle East, Central Asia, and West Asia. Their business philosophy emphasizes customer orientation, technological innovation, and attention to detail.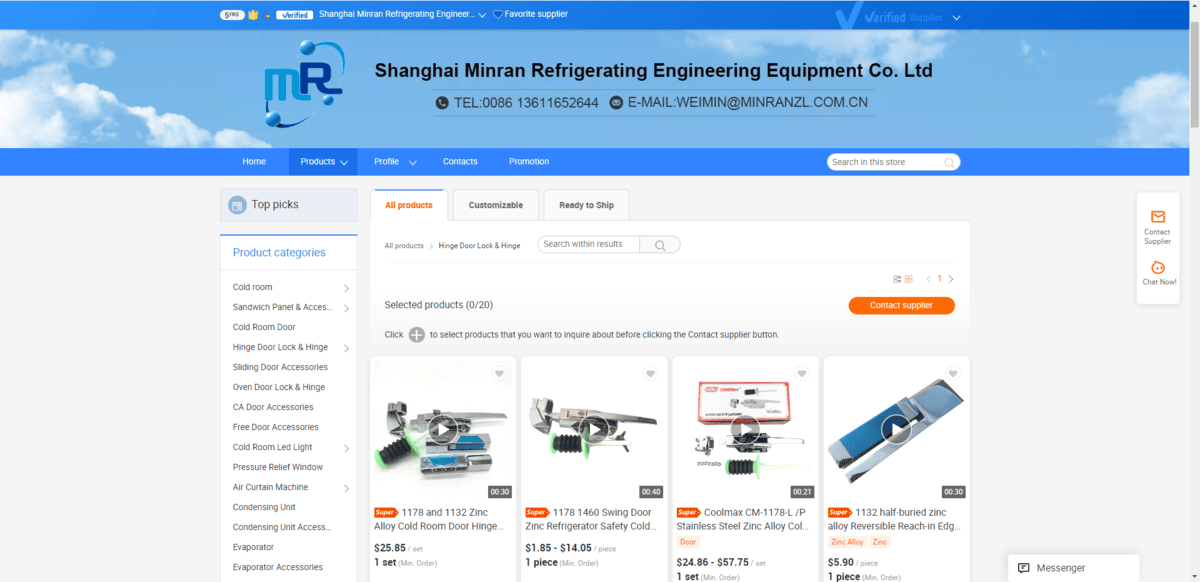 Location:  Ningbo
Company type: Manufacturing
Year founded: 2016
The number of employees: 46
Main product: Freezer Part, Fridge Part, Refrigeration Accessories
Established in 2002, WHICEPART has evolved over 20 years to operate in the HVACR industry. The company boasts four manufacturing bases specializing in metal, plastic, motors, and PCB control, as well as a trading entity. Major clients include well-known appliance brands such as Electrolux, Panasonic, and VESTEL, along with various regional agents. Certified by ISO, WHICEPART employs advanced, digitized management systems, including comprehensive inspection protocols. Their ERP system allows for meticulous tracking at every stage, ensuring accuracy in product details, packaging, barcoding, and even container conditions. Customs documents also undergo multiple checks. The entire operation is paperless and computerized.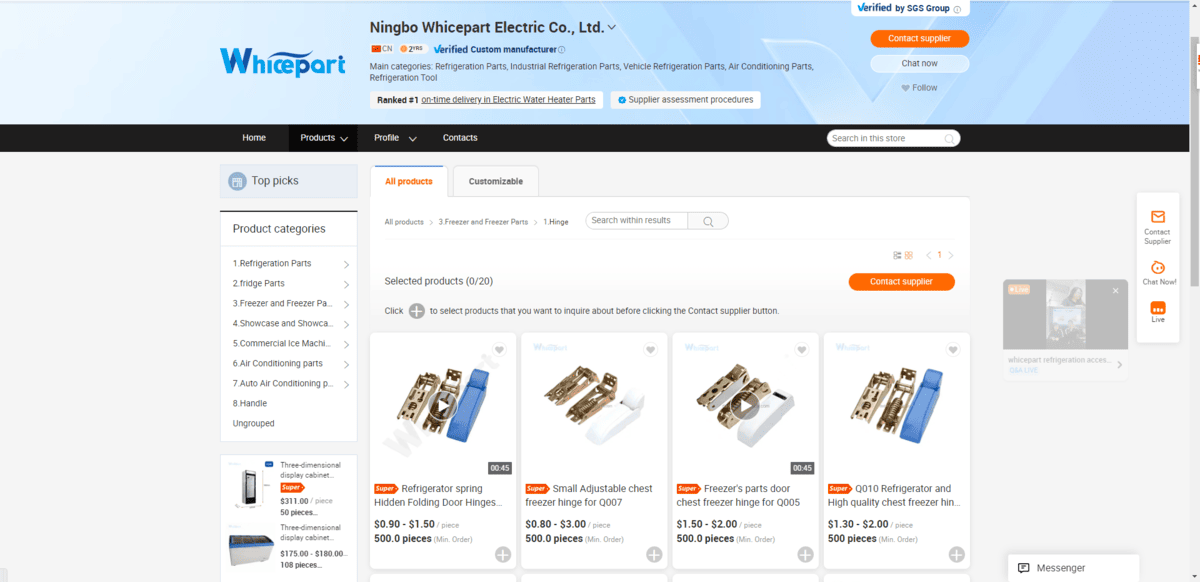 Location:  Jiangxi
Company type: Manufacturing
Year founded: 2020
The number of employees: 11
Main product: truck body parts, truck trailer door hinge
Jiangxi Youhang Auto Parts Co. LTD, formerly known as Taizhou Huangyan Youhang Machinery Parts Factory, has over 10 years of experience in manufacturing machinery parts for commercial vehicles, including a wide range of trucks and trailers. The company offers a broad product line, including door lock systems, hinges, seals, and various other fittings. Customized solutions are also available based on technical drawings and samples. With exports to over 60 countries, Youhang has earned a strong reputation for quality. The company prioritizes customer value, community wealth, and employee self-actualization, and is committed to technological innovation and rigorous quality control.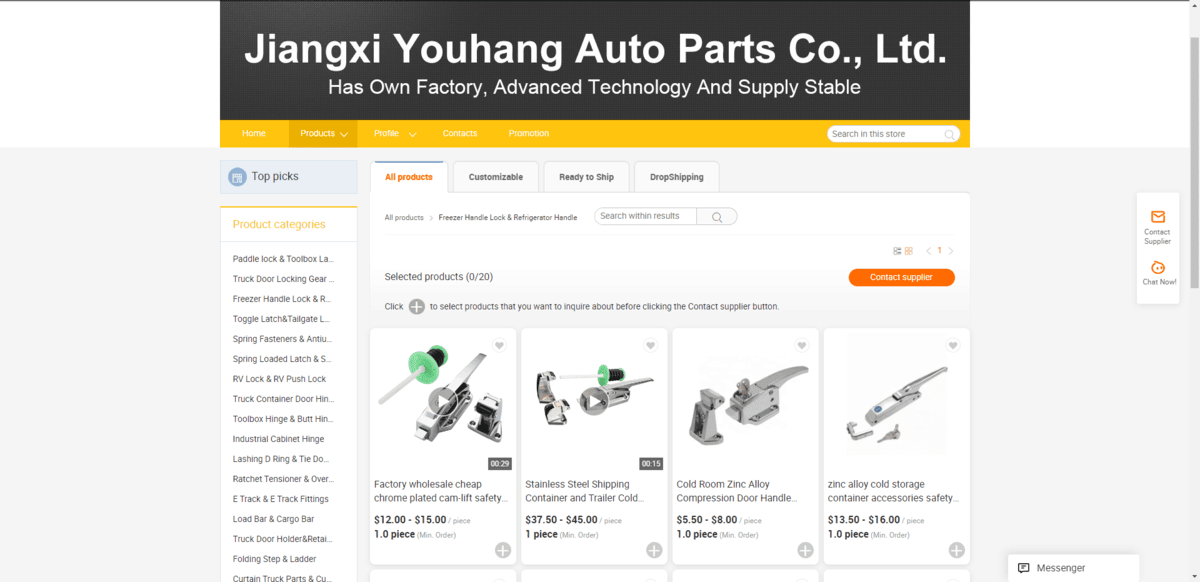 Location:  Shanghai
Company type: Wholesale
Year founded: 2004
The number of employees: 11
Main product: Refrigerant parts, Copeland compressors
Established in 2004, Shanghai Zhuoli Refrigeration Equipment Co., Ltd. is a multifaceted company specializing in development, manufacturing, and trading. The firm is dedicated to customer value and continuous innovation. Its product range encompasses compressors, refrigeration tools, and accessories from leading brands like Copeland, Danfoss, Panasonic, Daikin, GMCC, and Highly. The company also markets its own "TIBO" brand, which focuses on tools for the automotive air conditioning sector. Zhuoli offers timely delivery and full-service support for both local and international customers, aiming to forge collaborative futures.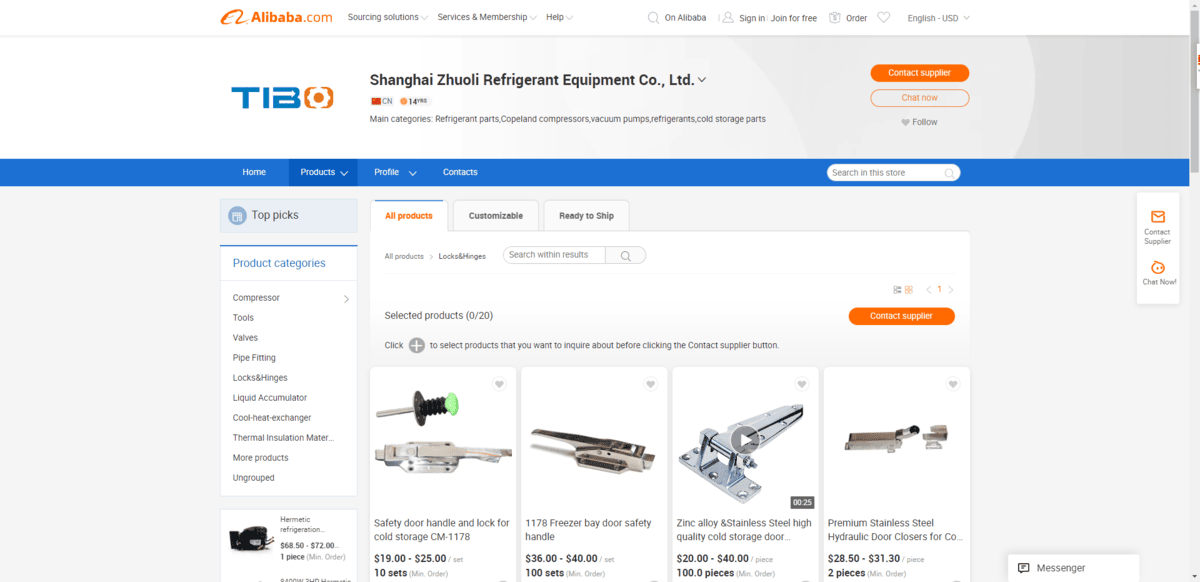 Above is the list of the top 10 cold storage hinge manufacturers in China. The main products of these manufacturers are different. But all of them involve cold storage hinges. Among them, IHINGES is more specialized in industrial hinge production. If you need to order and manufacture cold storage hinges, then it is recommended that you contact them.