Description
Polyamide Marine Door Hinges are robust mechanical components used for securely attaching doors in maritime environments. They are designed with a stainless steel shaft and a wing made from Polyamide, a material praised for its durability and resistance to wear, heat, and chemicals. These hinges come in a standard ivory color, making them aesthetically versatile for a range of ship designs.
Features
High Durability: The use of Polyamide (PA) in the wing and Stainless steel (SUS304) in the shaft ensures a high resistance to wear and tear, heat, and chemical damage.
Corrosion Resistant: The stainless steel component provides excellent resistance to rust and corrosion, particularly crucial in marine environments.
Low Surface Projection: With minimal surface projection, these hinges are safe for floor use, reducing the risk of tripping hazards or damage.
Versatile Application: Specifically designed for ship hatch panels and canopies, but can also be applied to a variety of other marine structures due to their robust construction.
Specifications
Material: Stainless Steel (SUS304) shaft, Polyamide (PA) wing
Standard Color: Ivory
Specific Use: Panels for ship hatch and canopies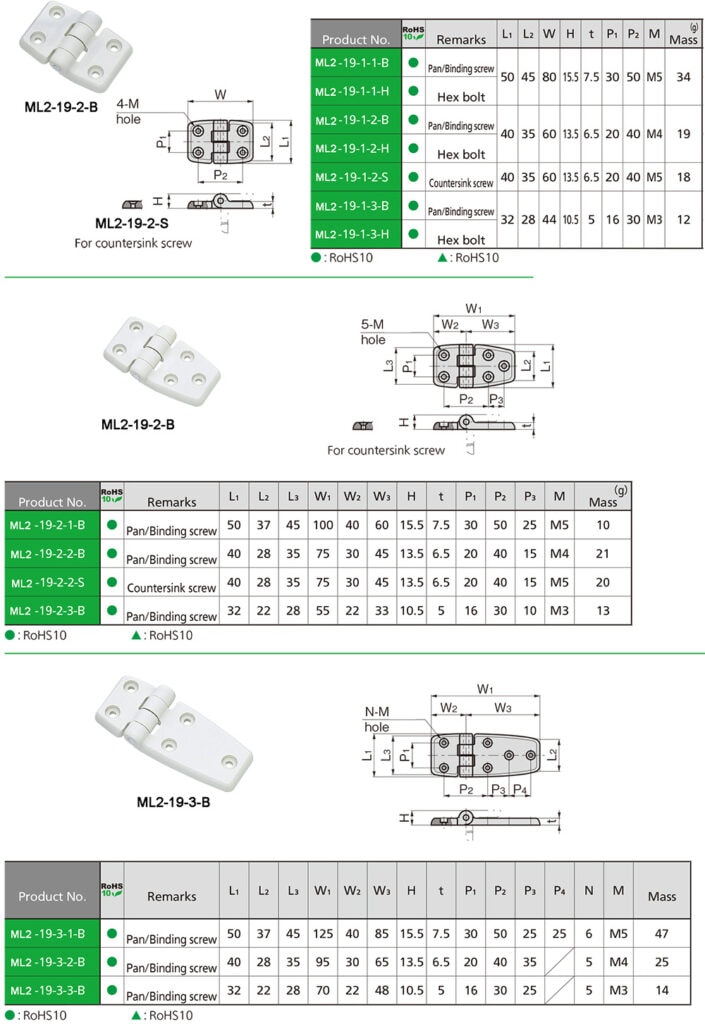 FAQs
What are the benefits of using polyamide in the construction of marine door hinges?
Polyamide, often used in the wing part of marine door hinges, provides several advantages. It is highly durable, resistant to wear and tear, and can withstand harsh marine environments. Its lightweight nature also contributes to the overall efficiency of the marine vessel.
How does the stainless steel shaft contribute to the performance of marine door hinges made of polyamide?
The stainless steel shaft, particularly SUS304 grade, provides a high level of corrosion resistance, strength, and durability. This is vital in marine environments where the hinges are exposed to seawater and the elements.
Why are marine door hinges with a small surface projection safe for use on the floor?
A small surface projection reduces the risk of accidents such as tripping or snagging, especially in the confined space of a ship. This design feature ensures safety without compromising the hinge's functionality.
Why is ivory a standard color for these hinges?
The ivory color is not only aesthetically pleasing but also helps to reflect heat, thus reducing the thermal stress on the hinge. It can also easily blend with various marine vessel interior designs.
What specific applications do these marine door hinges have?
These hinges are particularly suitable for use on ship hatch panels and canopies due to their durability, corrosion resistance, and safety design. Their small surface projection and robust construction make them ideal for these heavy-duty applications.