Description
Our One-Way Torque Hinges are designed to provide improved ease of use and enhanced finger safety. These hinges feature a unique mechanism that offers no load torque in the direction of the lid opening, making them user-friendly. Additionally, the load torque works in the direction of lid closing, effectively preventing fingers from getting caught or injured.
Features:
Enhanced Safety: The torque hinges prevent accidents by minimizing the risk of fingers or objects getting trapped when closing the lid.
Ease-of-Use: With no load torque in the direction of the lid opening, our hinges provide effortless and convenient operation.
Durable Construction: Made with high-quality materials, including Polyamide (PA-GF50), Polyacetals (POM), SUS303 stainless steel shaft, and a sintered ferrous alloy internal clutch mechanism, ensuring long-lasting performance.
Wide Temperature Range: Suitable for use in various environments, the hinges can withstand temperatures ranging from 0 to +60°C.
High Durability: These hinges are built to last, with a durability rating of over 20,000 uses.
Specific Use:
Ideal for front covers and canopies used in inspection/measurement devices, environmental equipment, and other applications where safety and ease of use are crucial.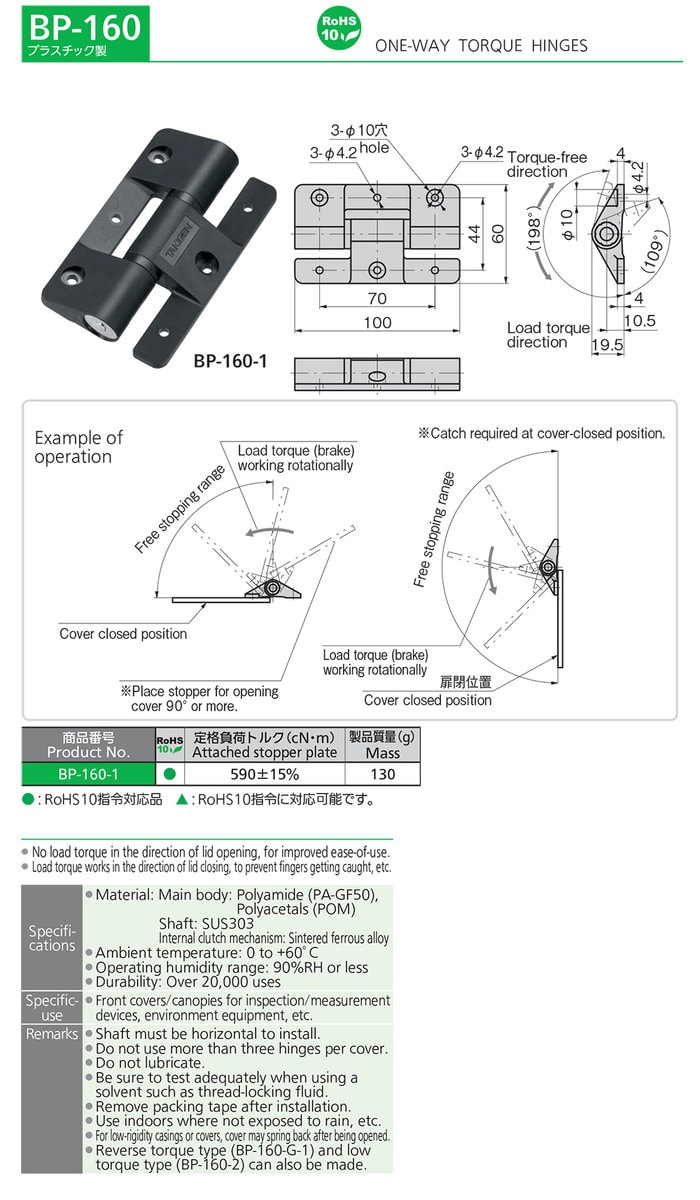 FAQs:
1. Are these hinges easy to install?
Yes, our One-Way Torque Hinges are designed for easy installation. Simply follow the provided instructions, and you'll have them securely in place in no time.
2. Can I use these hinges outdoors?
Yes, these hinges are suitable for outdoor use. They can withstand a wide range of temperatures and are resistant to environmental conditions.
3. Will these hinges prevent my fingers from getting pinched?
Absolutely! The load torque mechanism ensures that the hinges close smoothly, minimizing the risk of finger injuries or pinching.
4. Can I use these hinges for heavy lids or covers?
Yes, our One-Way Torque Hinges are capable of handling a variety of lid weights. However, please ensure that the weight is within the specified limits for optimal performance.
5. Are replacement parts available for these hinges?
Yes, we offer replacement parts for our One-Way Torque Hinges. Please contact our customer support team for further assistance with your specific needs.