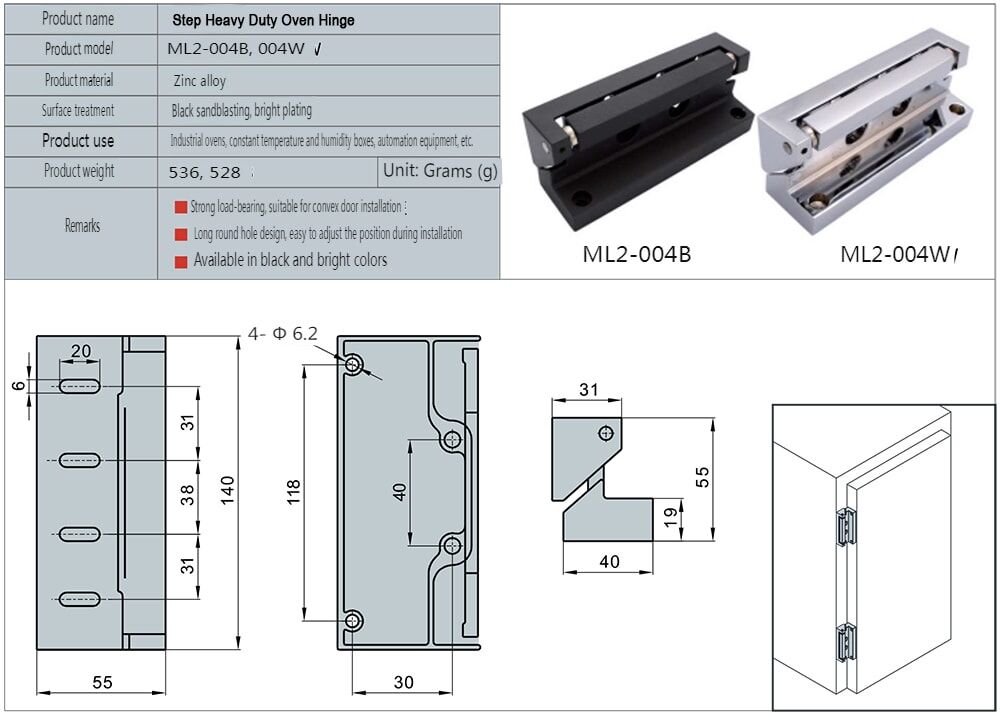 Purpose and Usage
The Step Heavy Duty Oven Hinge is no ordinary hinge. Crafted specifically for high-demand environments, this hinge caters to a wide range of applications. Whether it's industrial ovens, constant temperature and humidity testing chambers, or automated equipment doors, this hinge offers robust and reliable solutions. Its primary role? To provide a durable connection and bear significant weight, ensuring the seamless operation of doors in industrial settings.
Unique Step Design
At the heart of its design is the step structure, a unique feature that sets it apart from conventional hinges. The step design signifies that the door's thickness will protrude above the door frame, placing the door panel and door frame on different planes. This ensures a snug fit and adds an aesthetic dimension to the door's appearance. The installation schematic further illustrates how this hinge can be integrated into a door system, bringing clarity to its distinct structure and functionality.
Material and Construction
Strength is synonymous with the Step Heavy Duty Oven Hinge. Made from zinc alloy, a material known for its strength and durability, the hinge promises a long life span even under the rigors of industrial use. The craftsmanship involved in its making guarantees precision and resilience, ensuring that the hinge can withstand considerable weight and frequent use.
Surface Finishes for Every Need
Aesthetics are as vital as functionality, and this hinge doesn't disappoint in this domain. It comes in two distinct surface treatments. For those who prefer a matte, textured look, the black sandblasting finish offers an elegant and subdued appearance. Alternatively, the bright chrome plating adds a touch of shine and sophistication, making it suitable for settings where appearance matters as much as performance.
Notable Features
Beyond its primary function, the hinge boasts several features designed to simplify installation and enhance user experience. One such feature is the long oval hole, which aids in easy position adjustment during installation. This design aspect ensures that the hinge aligns perfectly, promoting optimal function and reducing wear and tear over time.
In conclusion, the Step Heavy Duty Oven Hinge is not just a hinge; it's a testament to innovative design, superior craftsmanship, and the understanding of industrial needs. Whether you prioritize strength, ease of installation, or aesthetics, this hinge checks all the boxes. For detailed dimensions and specifications, please refer to the provided diagram.
You might also be interested: