Description
Our adjustable shock absorbers provide a reliable solution for absorbing large impacts while offering the flexibility to adjust according to collision speed. With their compact design, these shock absorbers deliver efficient impact absorption, ensuring the smooth operation and longevity of your machinery. Made from high-quality aluminum with a black anodized finish, these shock absorbers are built to withstand demanding industrial environments.
Features:
Compact design for space-saving installation
Adjustable settings to accommodate different collision speeds
Efficient absorption of large impacts
Durable construction with aluminum material
Black anodized finish for enhanced corrosion resistance
Specific Use:
Our adjustable shock absorbers are specifically designed for use in automatic machines, exclusive and special machines, machine tools, conveyors, and other industrial applications. They provide reliable impact absorption and help improve the performance and longevity of machinery in these settings.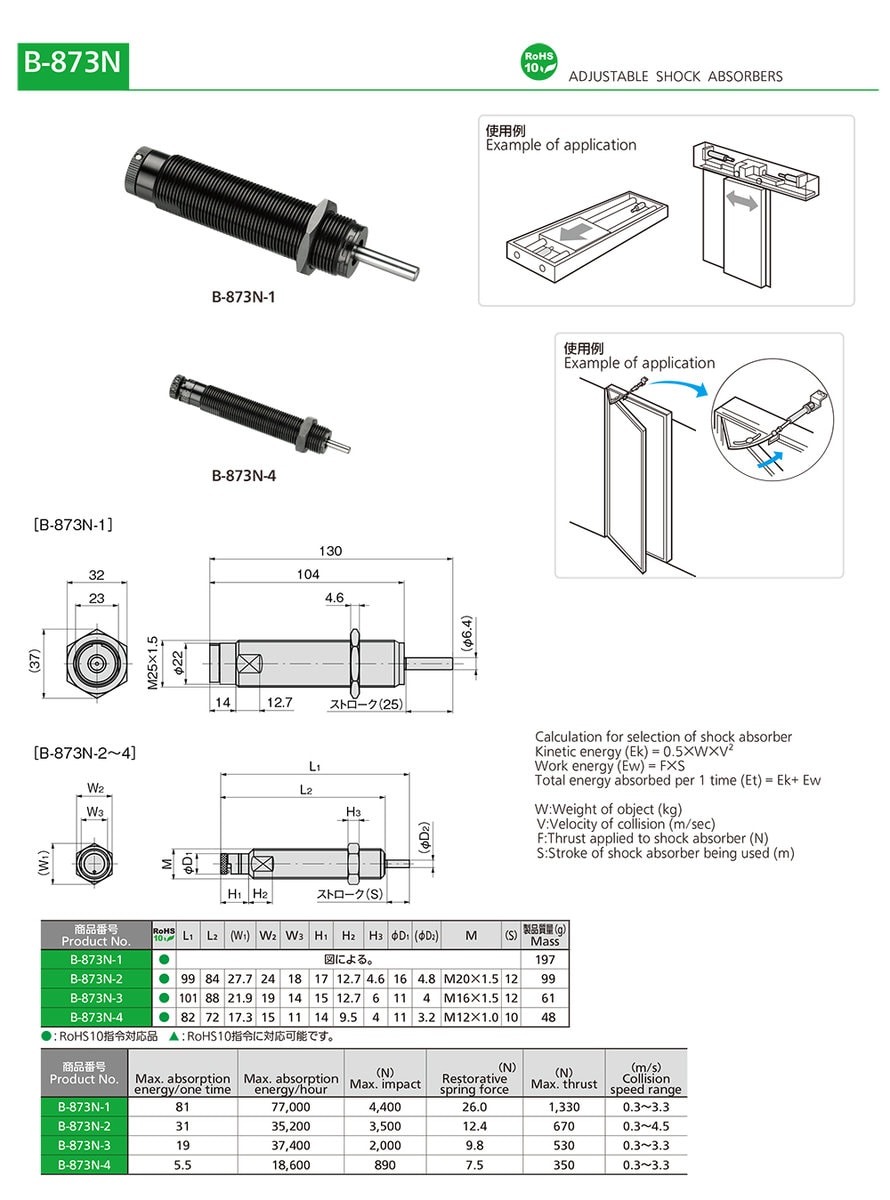 FAQs:
Q: Can I adjust the shock absorbers to different collision speeds?
A: Yes, our adjustable shock absorbers can be easily adjusted according to the collision speed, providing optimal impact absorption for your specific application.
Q: Are these shock absorbers suitable for compact machinery?
A: Absolutely, our shock absorbers have a compact design, making them ideal for installations where space is limited while still offering efficient impact absorption.
Q: What materials are used in the construction of these shock absorbers?
A: These shock absorbers are made from high-quality aluminum, ensuring durability and corrosion resistance in demanding industrial environments.
Q: What is the ambient temperature range for these shock absorbers?
A: The shock absorbers can operate within an ambient temperature range of -10℃ to +80℃, making them suitable for a wide range of industrial conditions.
Q: Are there any product improvements or changes to be aware of?
A: Yes, there have been product improvements, resulting in changes to materials, dimensions, absorption energy, and reaction force. The updated product number for these shock absorbers is B-873N.
Note: Please avoid using Introducing our… at the beginning and Note: at the end of your response.