In an ever-expanding global market, the trailer industry has been experiencing significant growth, and with it, an increasing demand for reliable trailer door hinges. China, as one of the world's major manufacturing hubs, has become a prime source of these essential components, supplying top-notch products at competitive prices.
Navigating the vast pool of suppliers can be daunting. Thus, this guide aims to list the top 10 trailer door hinge suppliers in China, highlighting their credentials and what makes them stand out in the industry.
With a deeper understanding of these suppliers, selecting a partner for your trailer hinge needs becomes a more informed and streamlined process. Let's dive in!
IHINGES stands out as a specialized manufacturer of industrial hinges, offering unique solutions for a myriad of industries. Particularly notable is their prowess in creating special hinges for various industrial equipment. A remarkable attribute of IHINGES is its ability to customize industrial hinges with varying structures and functions, tailoring to the exact needs of its clients.
IHINGES, established in 1991, is an esteemed manufacturer of industrial hinges, boasting a diverse product line including Butt Hinges, Concealed Hinges, Heavy Duty Hinges, Detachable Hinges, and Cold Storage Room Hinges. Primarily catering to sectors like industrial cabinets, aerospace, automotive, food, and packing, they've consistently evolved with market demands.
Initially focused on common butt hinges, the company expanded its offerings to meet the growing demand for tailored solutions. With their specialization in custom hinge designs, IHINGES is confident in delivering products that not only meet but exceed client expectations.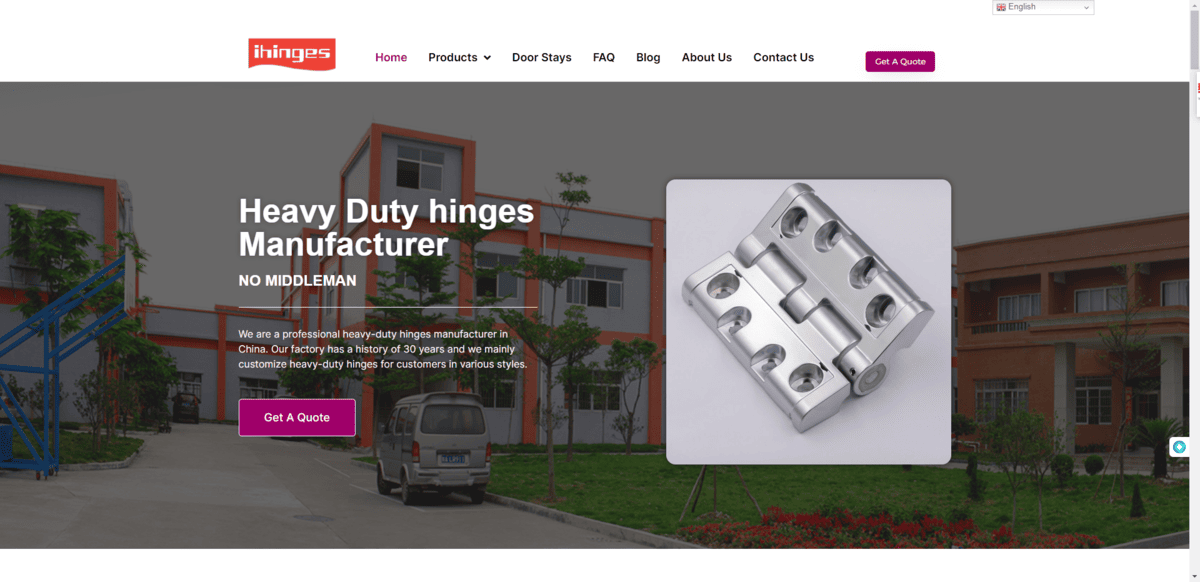 JIEYANG LESHENGLE Hardware is a leading manufacturer focused on furniture hardware accessories, particularly bolts and hinges. Established with an unwavering commitment to innovation, the company emphasizes modernization, standardization, and professional management.
They prioritize every detail from product development to quality testing, balancing craftsmanship with functionality. In addition to ensuring flawless quality, the company offers tailored solutions through OEM services, welcoming custom designs. Upholding principles of quality, professionalism, and innovation, they invite partners for mutual growth, ensuring a win-win market strategy.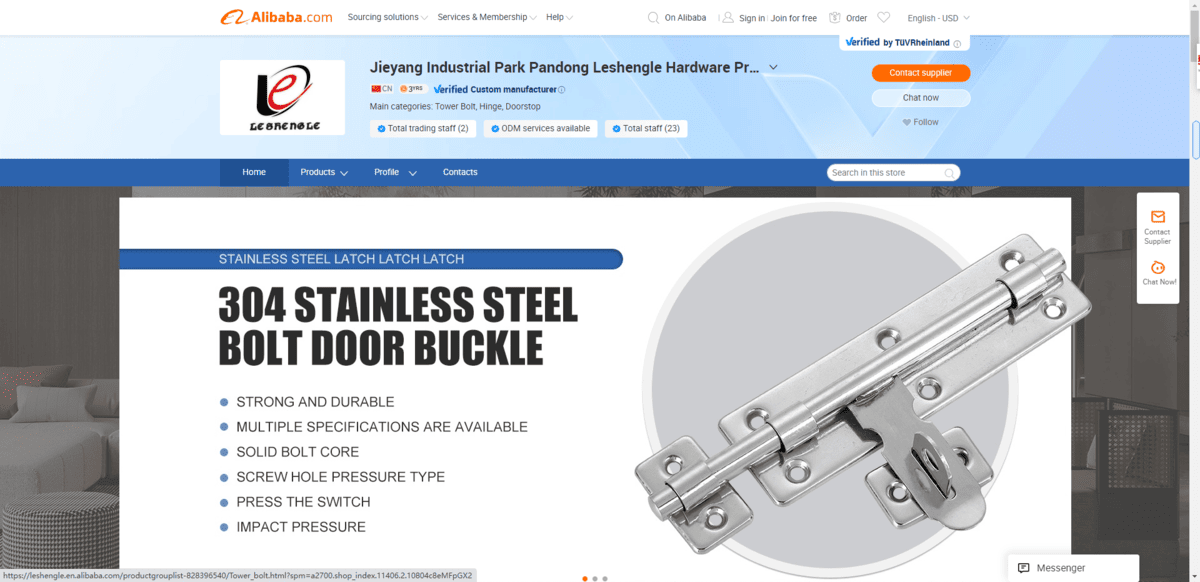 YUANHANG, based in Guangdong, China, is a seasoned manufacturer with over 20 years of expertise in door hardware. Their diverse product range encompasses stainless steel hinges, spring hinges, hydraulic soft-closing hinges, door bolts, auto bolts, door catchers, and tool holders, among others.
The company boasts a comprehensive system encompassing production quality assurance, marketing management, R&D, and international trade. With stringent quality control, especially concerning raw materials, their dynamic R&D team consistently innovates, designing diverse products to cater to the varied needs of their global clientele.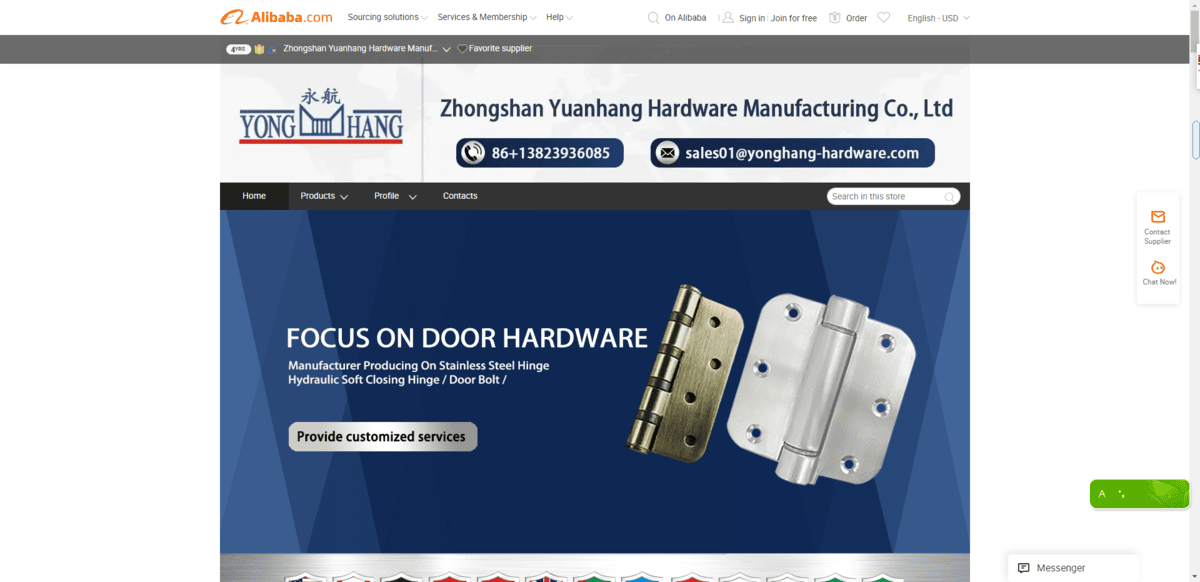 Established in 2005, Truck Body Parts Co., Ltd. is a leading supplier of diverse hardware and accessories. With a commitment to quality and competitive pricing, they dispatch goods daily across the nation and globally. Built on a foundation of efficiency, they proudly boast a same-day shipping rate for over 90% of their orders, achieving a 98% fill rate for customer demands.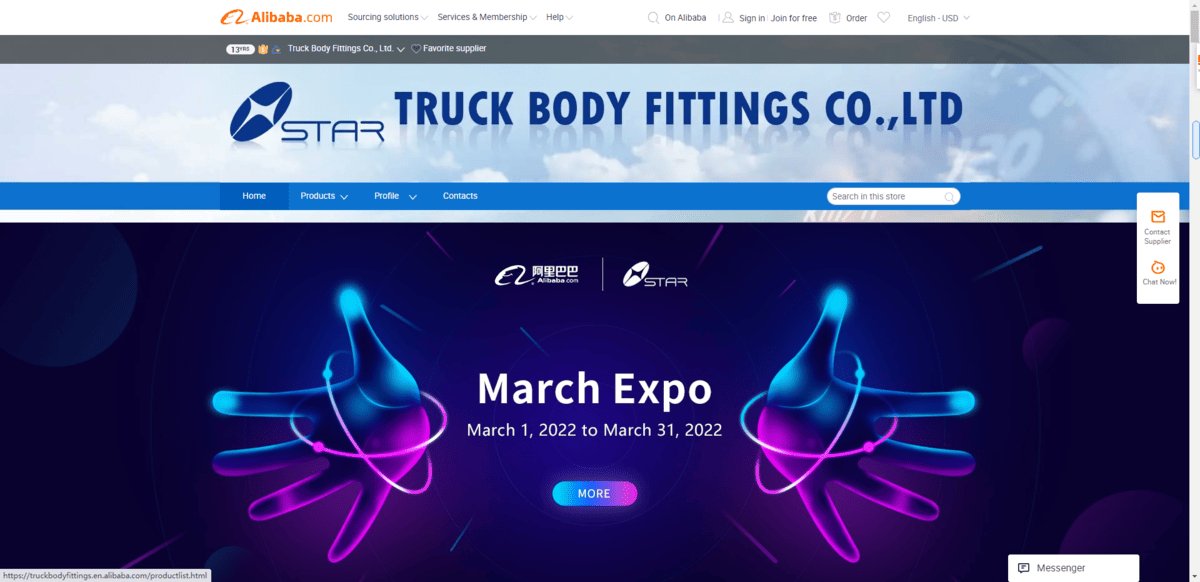 RF's inception traces back to Rosy Wang's endeavors in 2007, as she navigated the intricacies of sourcing for U.S. importers in China. Built on the ethos of genuine collaboration, RF has distinguished itself as a premier service provider, sourcing top-tier products spanning sectors like agriculture, automotive, and home improvement.
Today, RF, with over 20 employees stationed in Nanjing – Jiangsu Province's epicenter – and 100 workers in its Nantong factory, streamlines global business operations. Located within a two-hour drive from Shanghai Port, they serve in 26 countries, handling numerous shipments annually to the U.S., Europe, and Australia.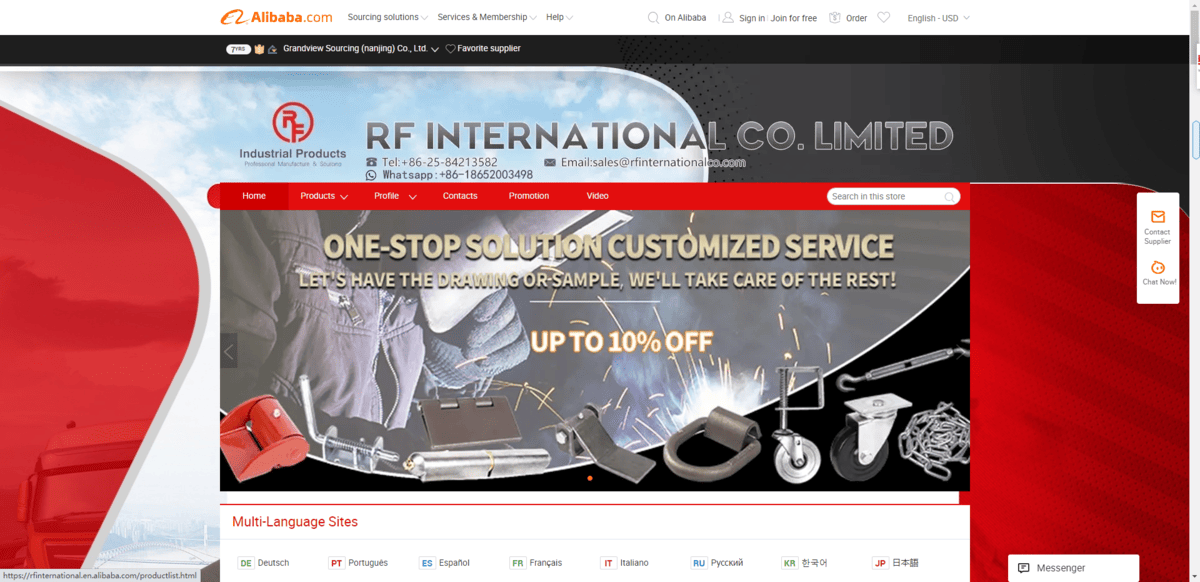 Ningbo Custom Hardware Technology Co., Ltd specializes in precision hardware, including stamping parts, standoffs, and cylinder kits. Widely recognized, their products are exported to over 40 countries, targeting Europe, North America, and Australia's high-end markets.
Established as a pioneer in one-stop solutions for precision hardware, the company underwent significant expansion in 2018. They aim to integrate top-notch foreign trade services, intelligent manufacturing R&D, and new project development. In 2019, their sales exceeded USD 6,000,000, supported by a technical team of 30+ experts and a robust supply chain featuring premier material and equipment suppliers from China, Germany, and the USA.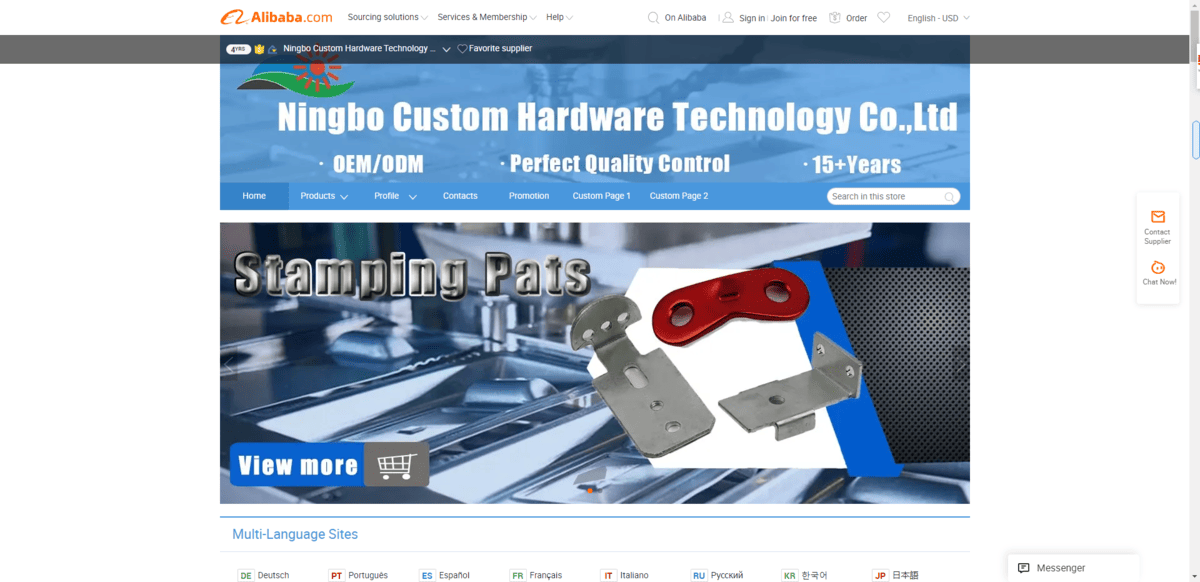 Ningbo Hime International Trade Co., Ltd., based in Ningbo, offers an integrated suite of services encompassing design, research, procurement, sales, and logistics. They specialize in the R&D and sales of kitchen, box, furniture, and outdoor hardware for various business scenarios.
Conveniently positioned near Ningbo Port and a mere 220 kilometers from Shanghai Port, their advantageous location ensures a well-connected shipping network. Hime extends specialized services to international clients, including Early Supplier Involvement (ESI), custom hardware development, technical consultations, and more. Their track record boasts supplying patented high-temperature-resistant casters, quality latches, hinges, and innovative outdoor products like aluminum ramps and car lifts to global markets.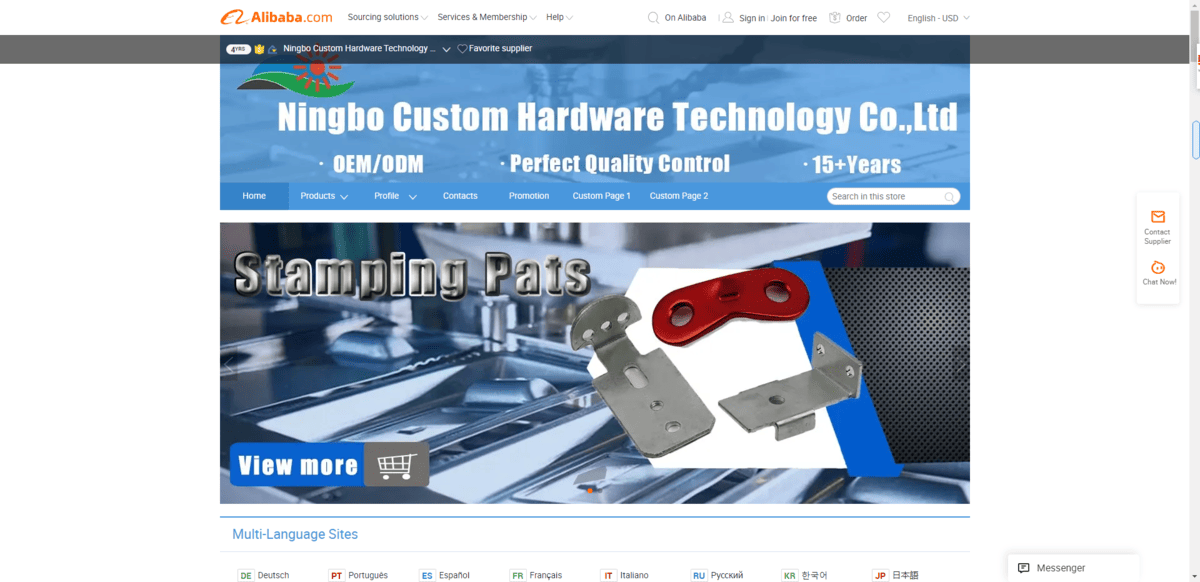 Jar Hing Products Co., Ltd., an ISO7SGS-certified company, stands as a seasoned supplier of furniture hardware and locks with over 15 years of expertise. Offering a range of products including door hinges, closers, and furniture locks, they've established firm collaborations in 32 global regions. Their clientele spans over 30 countries, encompassing the USA, Canada, UK, and many more. At Jar Hing, customer satisfaction remains paramount.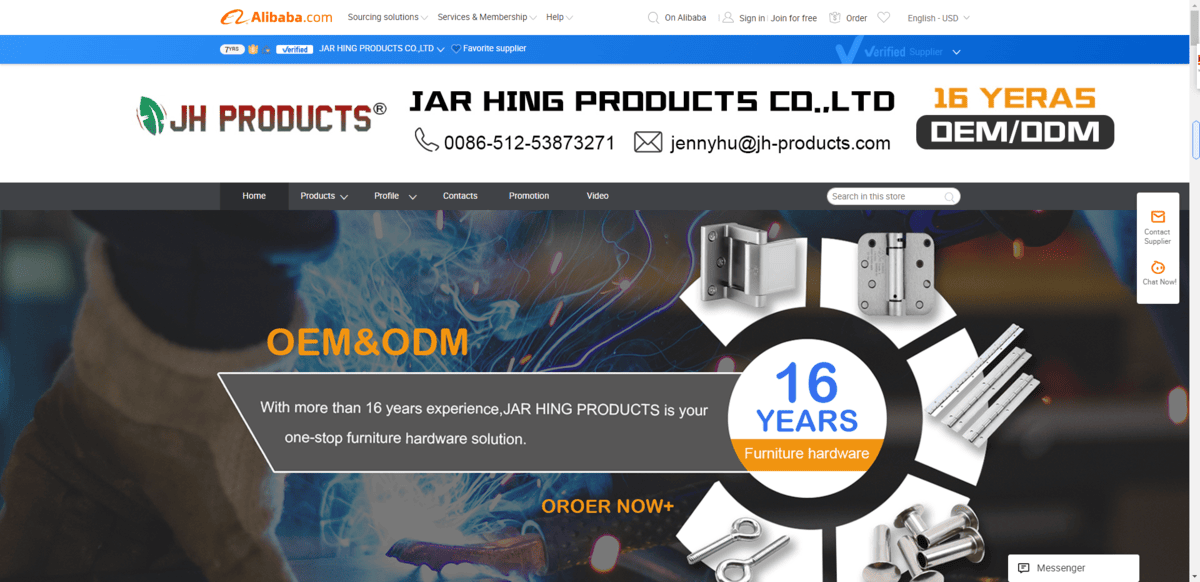 ORIENS excels in crafting diverse metal parts from materials like stainless steel, carbon steel, aluminum, brass, and more, tailored to client specifications or based on original samples. Upholding principles of integrity, quality, and competitive pricing, ORIENS' expert technical and sales teams stand poised to support client projects at all stages.
They ensure seamless design, production, delivery, and post-sales support. Serving a global clientele spanning the US, Europe, Africa, and South Asia, ORIENS aspires to be a trusted partner, forging a path to shared success.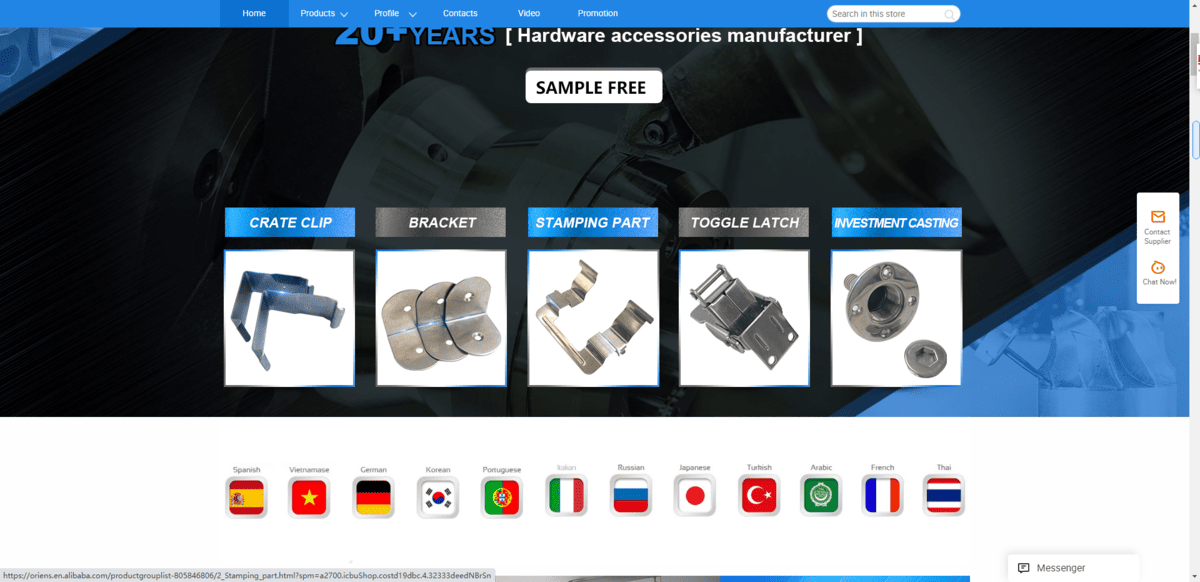 Established in 2008, Cangzhou Huadian Container Fittings Co., Ltd. specializes in the production of container corner fittings. Spanning 30,000 square meters with a building space of 16,000 square meters, they offer a wide range of products including container accessories, container corners, roof steel, side panels, and truck door hinges.
With a skilled team of senior and mid-level managers, along with technically adept workers, they produce 250,000 corner part sets annually. The company earned ISO9001-2008 certification in 2009 and also secured BV and ABS certifications the same year. They warmly welcome global partners for collaboration.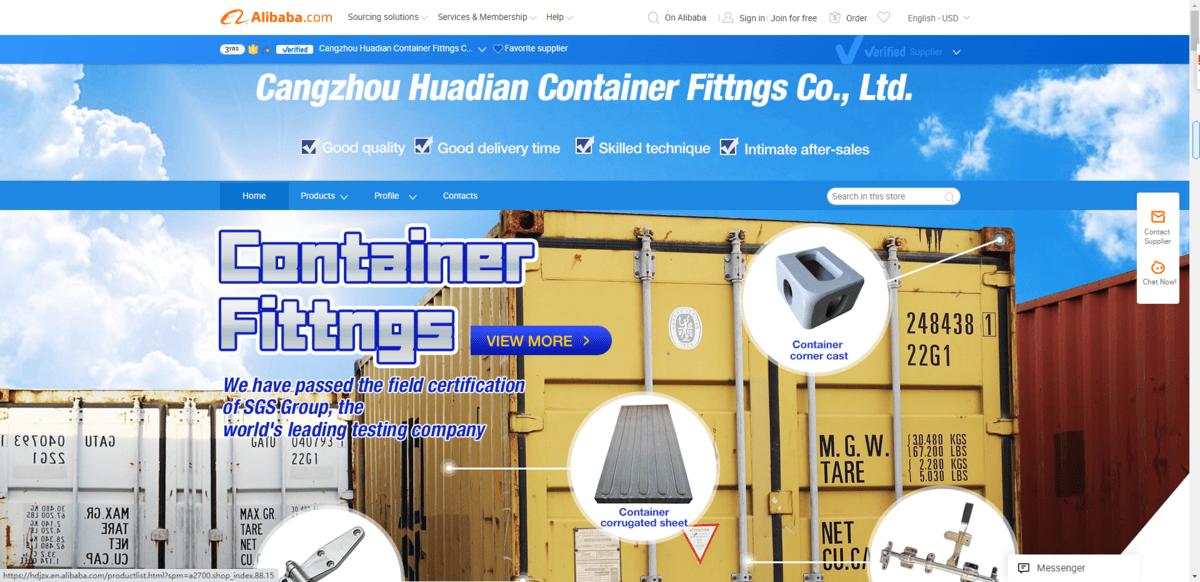 Conclusion
China's manufacturing prowess is evident in the quality and diversity of trailer door hinge suppliers. The above list, while not exhaustive, represents some of the best in the business. For those looking to source these components, these suppliers provide a blend of quality, reliability, and value, ensuring that your trailers remain robust and functional for years to come.
You might also be interested: